10 times
more effective than cold turkey
96%
of users recommend the program


*basierend auf den Ergebnissen unserer Beta-Tester Studien nach 6 Monaten
Die wirksame Rauchentwöhnung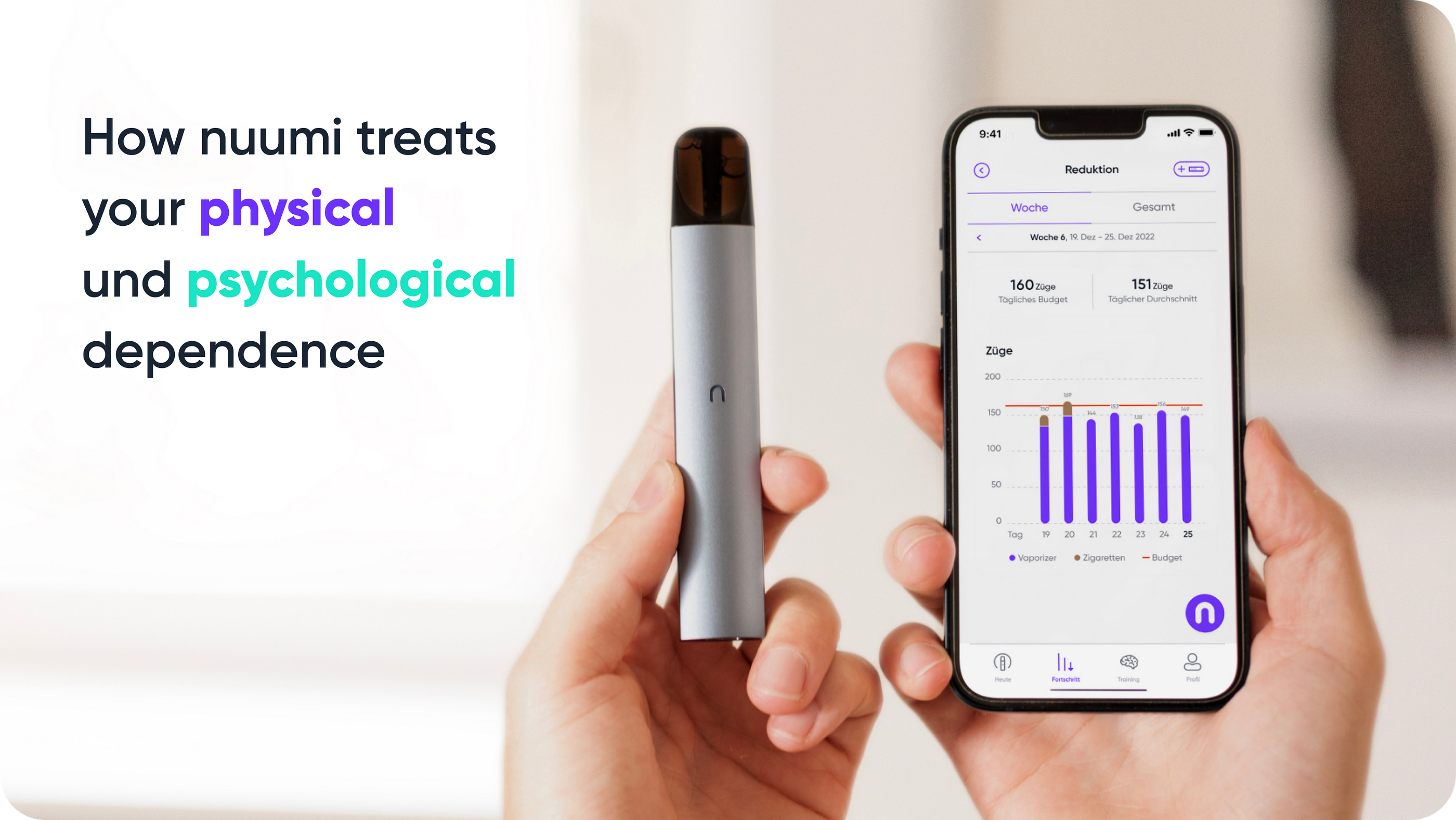 Effective smoking cessation
Smoking is both physically and psychologically addictive. Nuumi is the world's first program to combine nicotine cessation with behavioral training. This increases the probability of success of your smoking cessation up to 83%.
With scientific expertise to a high-quality product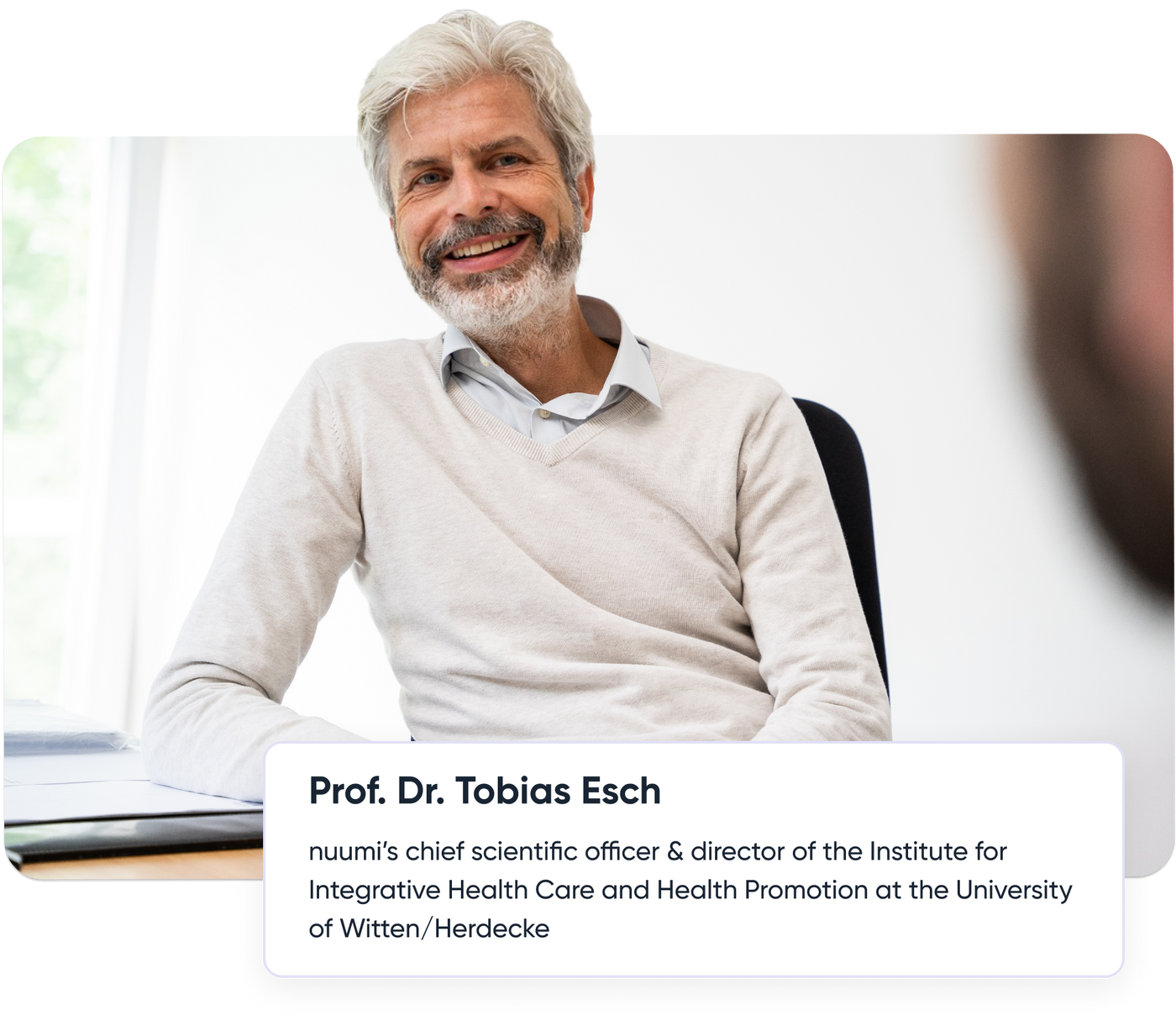 With scientific expertise to a high-quality product
For the development and validation of the nuumi program we collaborate with Prof. Dr. Tobias Esch. The renowned doctor is an expert in the field of health promotion and has already done research at Harvard Medical School and the Berlin Charité.
A wise decision - our intelligent vaporizer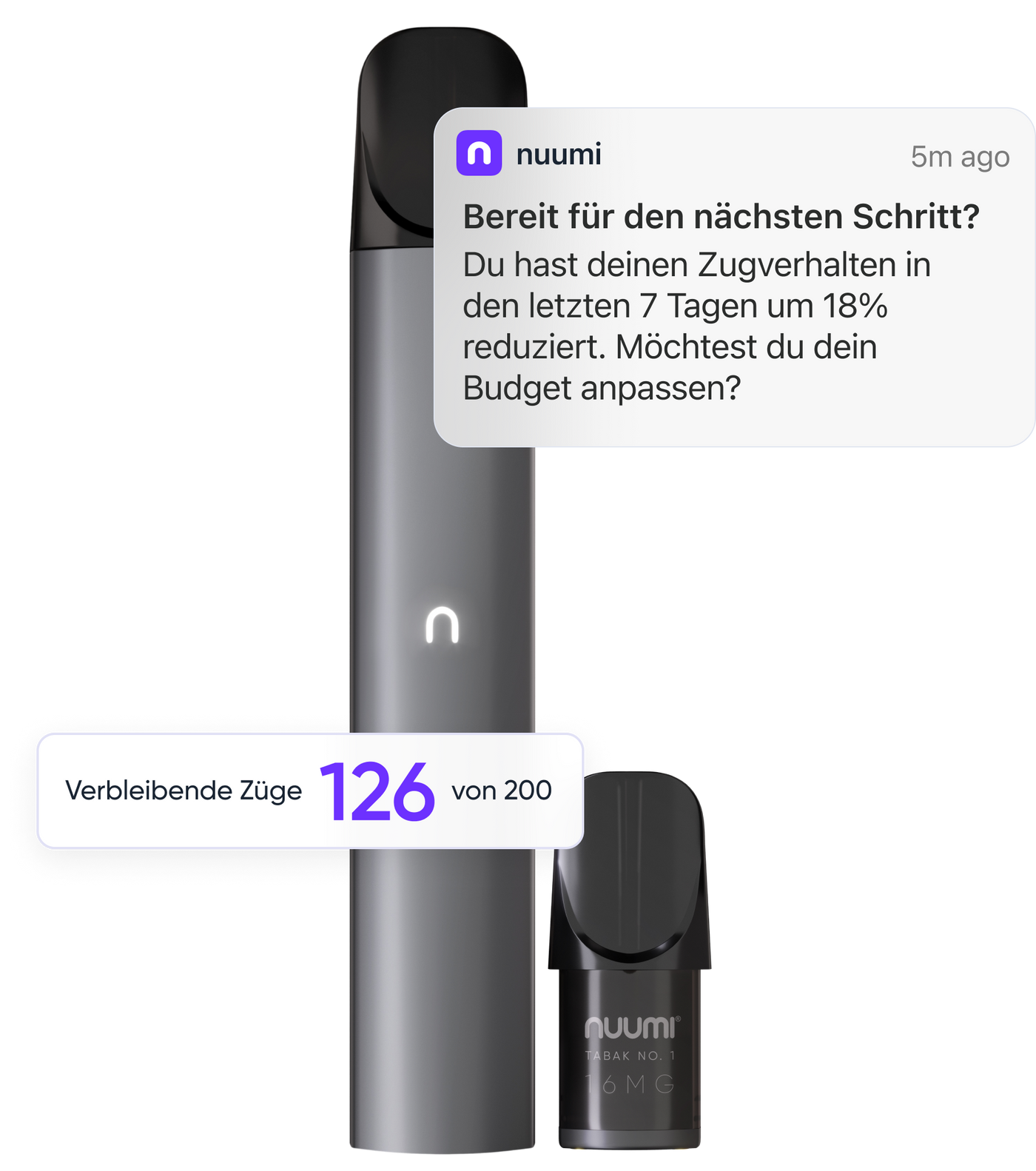 A wise decision - our intelligent vaporizer
Exactly the support you need. E-cigarettes are the most effective nicotine cessation solution*.

Real-time tracking of smoking behavior

Personalized nicotine cessation

Up to 90% less toxins than cigarettes

Liquids according to pharmaceutical standards
*Hartman-Boyce et al., 2021
The nuumi app: your daily companion
The nuumi app: your daily companion
Imrpove your stress management, learn to control your cravings and increase your well-being with scientifically-based training.

24/7 coaching adapted to your needs

Library with over 70 audios and exercises
Gamification increases your motivation
Fully automated progress tracking
Easily integrate quitting smoking into your daily life

In the first two weeks, you switch from cigarettes to the vaporizer, which gives you the necessary nicotine supply. Your personal coach supports you 24/7.

Over the next two to four months, your nicotine consumption will be gradually reduced. Behavioral training helps you control your cravings.

Once you are done with the program, you no longer need the vaporizer or cigarettes. You are finally free from your addiction!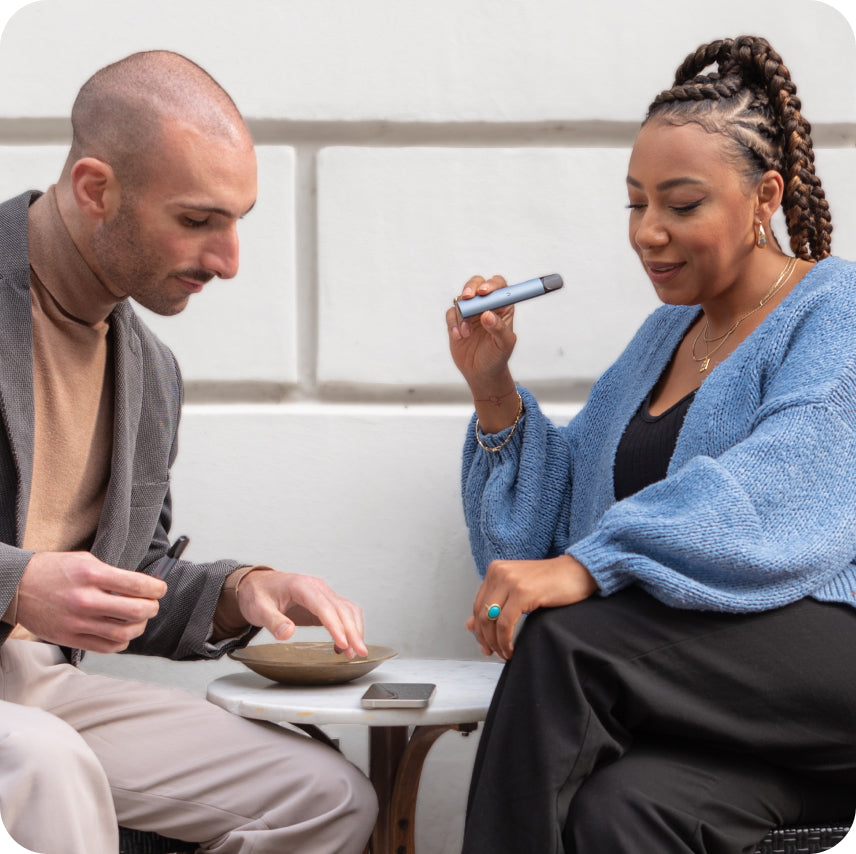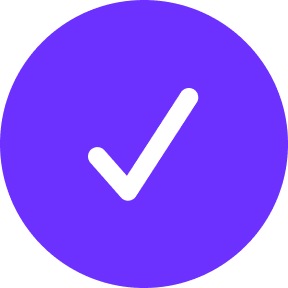 Effective
Your psychological and physical dependency are being treated at the same time.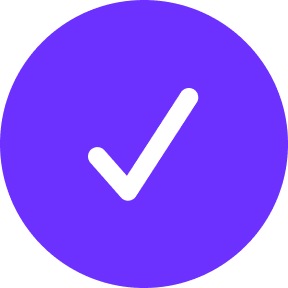 Personalized
The innovative program adapts to your personal needs in real time.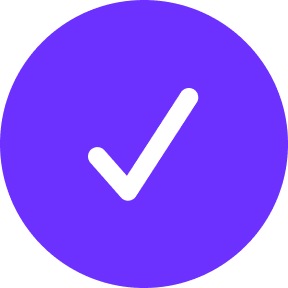 Motivating
The combination of coaching and gamification increases your motivation.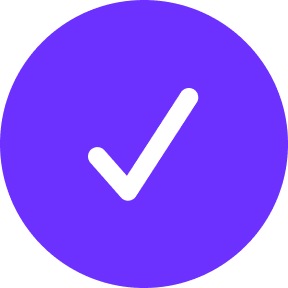 Simple
Can be easily integrated into your everyday life without quitting cold turkey.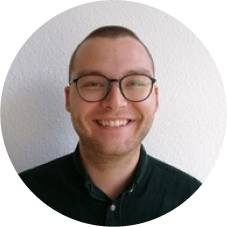 Brilliant! Like a Fitbit for smokers
"The coach gave me the motivation I needed to finally stop smoking. He listened to my needs and got me to deal with my addiction. With the combination of vaporizer and coach, after just a few weeks I realized that I no longer had the urge to smoke."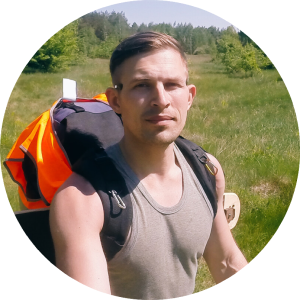 Discovering the "new me"
"Since I stopped smoking cigarettes, I feel like a new person. I don't remember the last time I felt this happy - I can perceive tastes and smells much more intensively and spend as much time in the fresh air as possible. I'm excited to rediscover the world as a non-smoker!"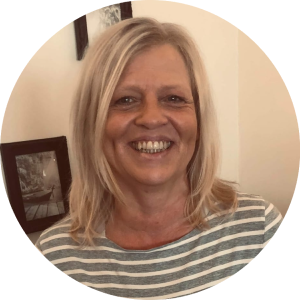 More than just a nicotine replacement
"I've tried nicotine patches to quit smoking several times, but always relapsed quickly without knowing why. I have since learned that the treatment for my mental addiction was lacking. Nuumi's coaching has helped me break out of old patterns that previously made quitting impossible."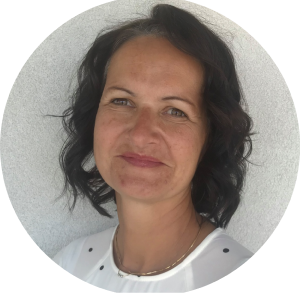 An innovation that works
"The coach always recognized immediately when I was stressed and was using the vaporizer too frequently. He then suggested exercises that I could use to get my puffing behavior under control again. I've never seen such an innovative way to quit smoking before."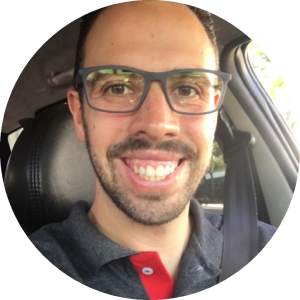 Brilliant! Like a Fitbit for smokers
"The tracking made me realize how addicted I was to tobacco. Nuumi helped me change my habits step by step. I've been a non-smoker for eight months now, which has completely changed my life. I finally have energy again and am more active than ever before. Cigarette addiction has really limited me, but thanks to nuumi I am free."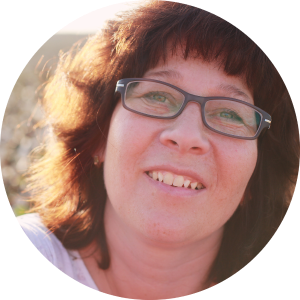 An effective combination
"With nuumi I finally got rid of my physical and mental addiction to cigarettes. The switch wasn't easy at first, but after a short period of getting used to it, the nicotine reduction combined with the behavioral training worked really well. The constant support from the coach really helped."
Quit smoking without withdrawal symptoms
"What's cool about the gradual nicotine cessation is that I haven't experienced any withdrawal symptoms. This made the transition fairly easy. Since I quit smoking, I've saved a lot of money and my health is much better because my asthma is no longer an issue."
The nuumi program is divided into three phases: switch, reduce and quit.
The first phase involves switching from cigarettes to the nuumi vaporizer. The aim is to completely cover your nicotine needs with the vaporizer. At the same time, your smoking behavior is being tracked so that a tailor-made nicotine cessation program can be established. Personalized tracking and coaching will help you make the transition.
This is followed by the reduction in nicotine intake. With gradual weaning, your physical dependence will weaken and your craving for cigarettes will decrease. At the same time, habits are broken with the help of behavioral training, which consists of informative audios and interactive tasks, to combat your psychological addiction.
The last phase of the program is quitting. When your nicotine consumption has been reduced to a minimum and your addiction no longer controls you due to the behavioral training, you set a "quit date" - this is the day after which you do not use cigarettes or the vaporizer.
Smoking is both physically and psychologically addictive. Nuumi offers a holistic solution and combines gentle nicotine withdrawal with behavioral training. The product in turn consists of an intelligent vaporizer and the nuumi app. Like a fitness tracker, the vaporizer records your smoking behavior in real time and thus gradually reduces your nicotine intake. At the same time, with behavioral training and coaching via the app, you develop new skills in order to consciously control your actions, impulses and emotions in accordance with your goals. Thus, step by step, you gain control over the cravings generated by triggers in order to discard your smoking habits in the long term.
The duration of the program depends on two factors: First, the length of therapy is based on individual smoking behavior – a person who smokes five cigarettes a day will generally quit faster than a person who smokes cigarettes 20 times a day. On the other hand, the duration of the smoking cessation program depends on how much time is invested in behavioral training (we recommend at least 5-10 minutes a day). Our research shows that the average program length is three to five months.
The program consists of a vaporizer and a subscription. It is important to know that the vaporizer can only be purchased in connection with the associated subscription. You make a one-off payment of €59 for the intelligent vaporizer to quit nicotine. The costs for the subscription are based on your individual nicotine needs and start at €49 per month. This includes: access to behavioral training and 24/7 coaching in the nuumi app + pods for your individual nicotine needs, which will be sent to you automatically.
Due to the gentle, personalized nicotine weaning, many of the otherwise typical withdrawal symptoms either do not occur at all or only occur to a lesser extent. We cannot guarantee that you will not experience any withdrawal symptoms, but with our behavioral training you will learn to deal with them better. Emotions and feelings such as stress, inner restlessness and insomnia are often regulated in everyday life with cigarettes. With the help of scientifically based behavioral training, you will learn how to eliminate negative thoughts and feelings through self-regulation and mental strength, i.e. without cigarettes.
No, you don't have to stop smoking straight away. Within the first two weeks you will get used to switching from cigarettes to the vaporizer. The tobacco is ultimately replaced by the vaporizer liquids. Even if you still reach for a cigarette from time to time, you can continue the program without any problems. Our AI coach will always be by your side to make quitting smoking as easy as possible for you.
You can only win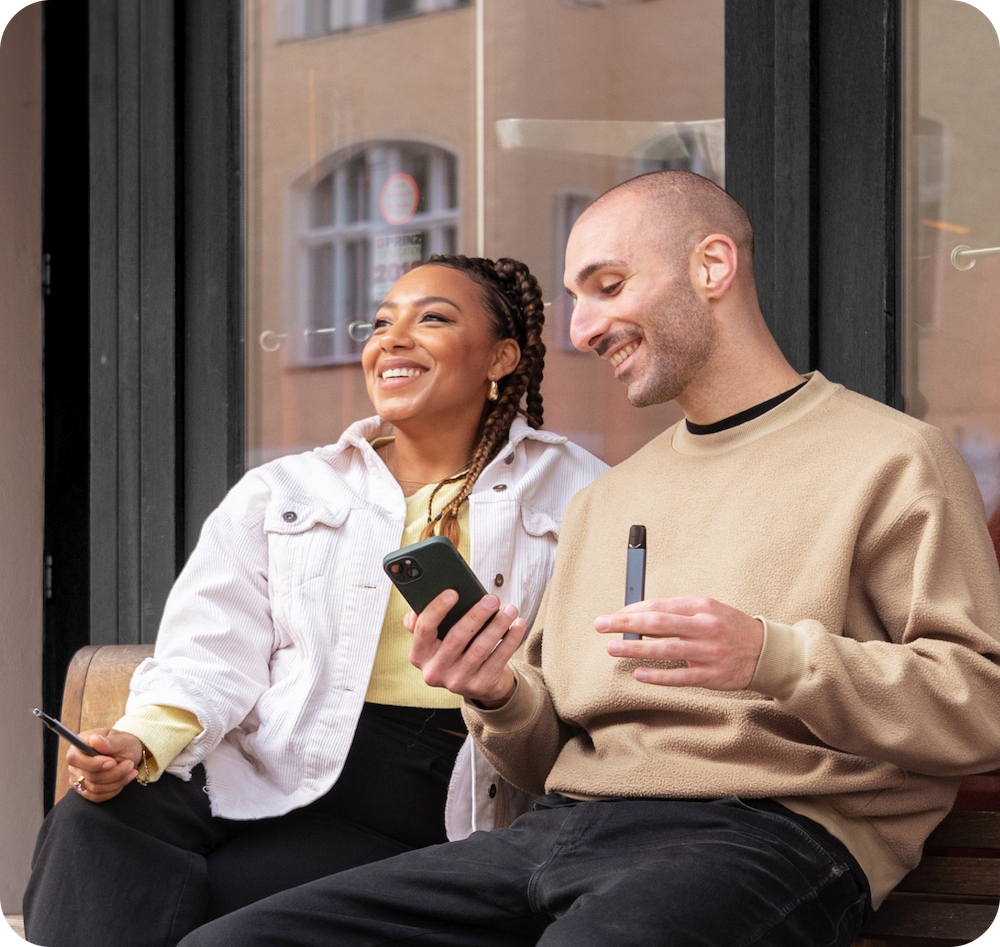 You can only win

your monthly costs decrease by 15-30%

you immediately inhale up to 90% less toxins

the success rate of quitting increase by 83%
Funding from the European Regional Development Fund
Nuumi is funded for its technological innovation project by the Investitionsbank Berlin and the European Union through the "ProFIT Early Phase & Project Financing" funding program.


Nuumi is funded for its technological innovation project by the Investitionsbank Berlin and the European Union through the "ProFIT Early Phase & Project Financing" funding program.
Stop smoking, start living!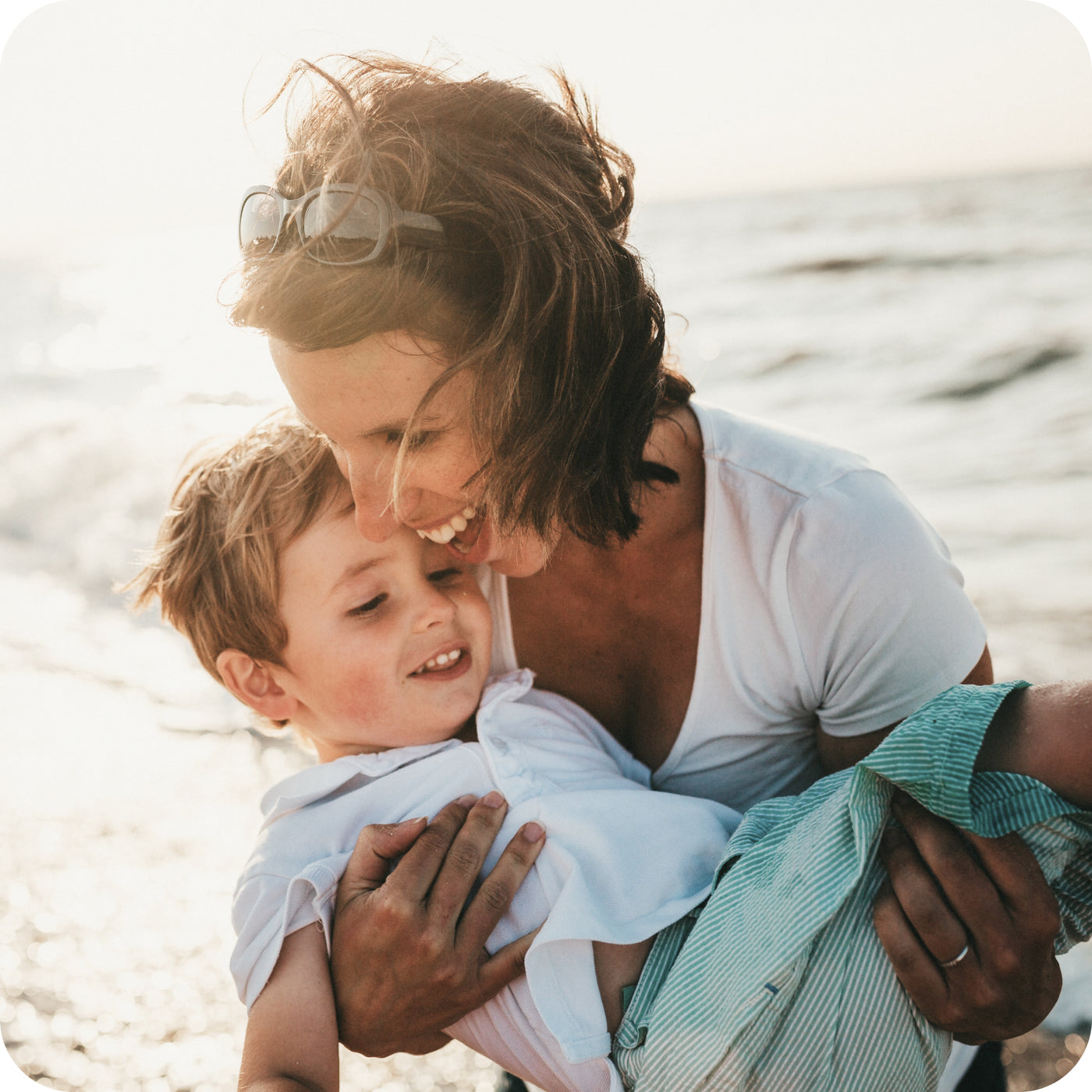 Stop smoking, start living!
Create your personal cessation program now.