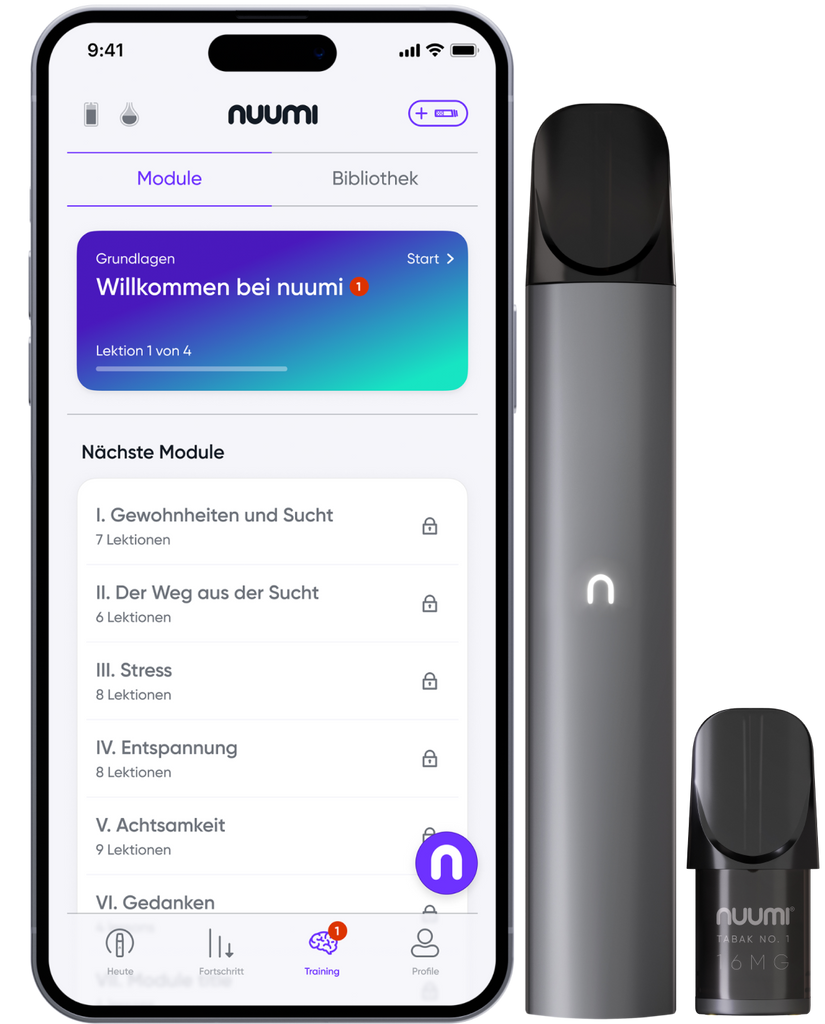 Create your smoking cessation program in 3 steps
To determine the price of your personal program, we will ask you a few questions about your smoking habits. Please provide truthful information, because this is the only way we can customize your nicotine plan for you.
On average, how many cigarettes/tobacco sticks do you smoke per day?
cigarettes/tobacco sticks per day
Note: For the calculation of your program, it is very important that you enter a truthful number. If you're having a hard time coming up with a number, go through a typical day and count how many cigarettes you smoke.
What nicotine strength do you smoke?
How many milliliters of liquid do you consume per day?
ml per day
To create your personal nicotine reduction plan, it is important that you enter a truthful number here. This is the only way to ensure that you are provided with enough pods to replace your nicotine consumption.
Choose a flavor for your nicotine cessation

Quality you can taste
All nuumi liquids are developed and manufactured by a doctor and pharmacist in Munich. In order to ensure the highest possible product safety, our products are produced according to the pharmaceutical standard and subjected to regular tests and toxicological reports, for example by TÜV Nord.

Vegan manufacturing
For the production of our liquids we only use vegan ingredients. The two main components, propylene glycol and glycerin, as well as our flavors, are made without animal by-products. Since we value cruelty-free research, we also do not carry out any animal testing.

Sustainability
We want to protect the climate as much as possible through our manufacturing processes and products. For this reason, we obtain all ingredients that are required for the liquids from Germany. These are carefully checked and then processed in the Munich laboratory. Only regional ingredients are used during production.